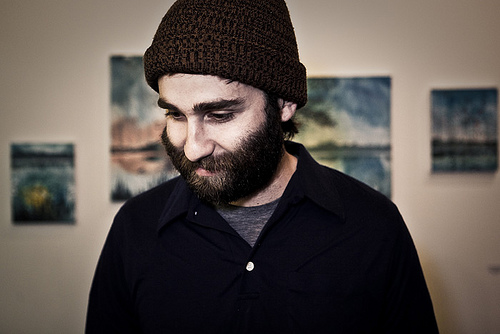 Photo by Mike O'Leary
Bob Keal, singer/songwriter of Small Sur gave us an interview:
How could you discribe your music to somebody who never heard you ?
Subtle and minimalist, but textured and pretty.
If your music was a landscape ?
I would say that our music is most like the ocean. It's as methodical as the tide, but there's a lot hidden beneath the surface that you won't find unless you really search for it and let it soak into you.
What's your story with music ?
I grew up singing in the school choir and playing trumpet in the band, but I never really liked it that much. I didn't listen to a lot of music growing up, and my parents didn't really have any tapes or CDs that they listened to aside from some religious ones. I bought a guitar the summer before my first year of college and started playing a bit here and there with friends. In 2004 I started writing songs and I recorded the self-titled EP with some buddies in California. When I moved to Baltimore in 2005 I played my first show and kept writing songs, and I've done so ever since.
What are your projects for the up coming months ?
Right now we are working on our second full-length and Andy Abelow (banjo/sax) and I are planning a do Small Sur tour of the West Coast (USA) for late July and early August.
Is there a new album to come ?
« Fall Fur » is the tentative title for our second full-length. We're working on it right now and it'll probably have around 10 tracks.
Did you plan touring ?
We have tours planned for the East and West coasts of the USA during July and August. I'll be traveling through Europe for about three weeks during June and early July, but it's mostly just a vacation. If anyone would like to set up some shows, however, I'd love to play a few.
Did you have side musical projects ?
The other members of the band play their own music, as well, and a couple of them play in several bands. Jamie (bass) is about to hit the road with Chicago-based « Nomo » for six weeks or so. They'll be touring all over Europe and the US. Andy Abelow (saxophone, banjo, etc) plays music under his own name and with other projects around Baltimore, and Austin Stahl (drums) has his own band, Private Eleanor, and he plays music under his own name, as well.
What are you doing when you don't play music ?
When I'm not playing music I love to cook and eat good food and drink wine with friends. I'm also an elementary school teacher.
Could you tell us the story of the song « Tones » ?
When I wrote « Tones » I was thinking about « tones » in terms of all of its meanings, the texture and qualities of one's voice, the energy behind things we say, and how those tones resonate within our bodies and minds.
Most ever playing record at home ?
Bonnie 'Prince' Billy - Master and Everyone
Little Wings - Light Green Leaves
Grateful Dead – American Beauty
What are you currently listening to, any recommended records ?
Bill Callahan – Sometimes I Wish I Were an Eagle
Washington Phillips – Compilation
Gilberto Gil – Expresso 2222
http://www.myspace.com/smallsur
You can download a free 8 tracks E.P of Small Sur on the Secret Stereo's website or directly here.
see also : a previous post about Small Sur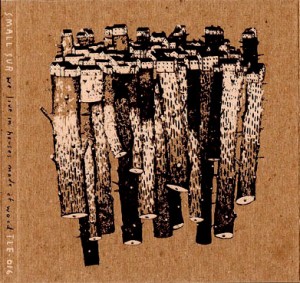 This is one of the bands I just discovered reading Slowcoustic's year end list.
« Small Sur's debut full-length, We Live in Houses Made of Wood, finds the band at their most nostalgic, meandering patiently among lush, reverb-drenched harmonies, and delicate, spare arrangements »
If you enjoy Dolorean or Great Lake Swimmers this album is for you !
http://www.myspace.com/smallsur
Small Sur @ Tender Loving Empire
If you'd like to read an interview that Bob Keal gave and download a free copy of the EP released in 2006 on the Beechfields Record Label, go to http://www.thesecretstereo.com and have at it!