If you often listen to KOKOMO WebRadio you have surely ever listen to Sister, one of our favorite singers. She's back on myspace with a couple of new songs, one of whom is called « Treat It Kind » [dewplayer:http://radio.kokomo.free.fr/wordpress/audio/treatitkind.mp3]
http://www.myspace.com/sisterlittlealms
see also: An interview with Sister …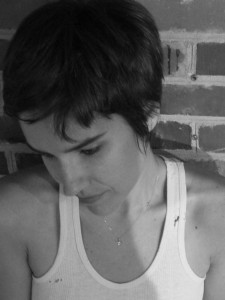 Sister is 30 years old, she lives in the state of New York, USA.
Her voice is beautiful and fragile but behind the brightness of her wonderful songs is sometimes hide a feeling of sadness and loneliness.
Sister is buiding a boat for love … don't miss the boarding.
http://www.myspace.com/sisterlittlealms
Where did you find your inspiration ?
Inspiration is everywhere. I have been fortunate to live in some beautiful places where the landscape just takes on a life of its own. I lived on a sailboat in the bahamas as a child, lived in the mountains of connecticut as teen, and ran around living in all different places in the states in and after college. For a while there it felt like i moved somewhere new each year. still is that way i guess. There's always a lonesome feeling in all the change, the newness of each place, never really belonging to anything but the landscape before you. I guess my songs always end up being about longing for the something or someone missing, always about something missing, an empty pit in your gut ; I did write a few tunes inspired by Bronte's « Jane Eyre » last year.
What's your story with music ?
There was no musicians in my family. I was interested in music at an early age..my folks wanted me to play piano but i rejected the idea and now i am sorry. five years ago i learned clawhammer banjo in upstate new york and fell in love with old time music. I guess i started toying with writing music then. One day, when i was living in houston, a year later, i wrote my first tune and then i couldn't stop. I don't play guitar now, just enough to write and keep time. Lately i've been working my first novella and writing tons of songs.
What kind of music did you hear at home when you were a child ?
My stepfather loved Cat Stevens, owned every album, for this i am thankful. Jimmy Buffett was also floating around which i could've done without. I guess there was a novelty in him sailing around on a boat listening to Cheesburger in Paradise.
What's gives you the need to sing, is it a hobby or is it vital, can you imagine your life without singing ?
At first it was a hobby, now i think it balances me out. I am pursuing a pretty traditional graduate degree, living a somewhat straighter lifestyle, and the music lets me live out my imaginative life, turn it into something more tangible. There are times when i need to write music more than others.
What are your projects for the coming months ?
Well, i plan on wrapping up school in the next two years, and also to get a few albums out. I have over a hundred tunes and haven't had the time or the tools to sit down to record the lot of them. My hope is to finish even half of what i set out to do..not looking for a label, no major plans in the works ; just aiming to settle down soon so i can have a steady band and play out more.
Is there a song you wish you had written ?
Sibylle Baier's « Forget About »
Most ever playing record at home ?
I can't honestly answer that ; lately, it's been Arizona Amp and Alternator (self titled).
Songs on rotation on KOKOMO WebRadio :
Stuck on a note
Revolver
In vain
Raining
Route 79
Holiday
Forty Days
http://www.myspace.com/sisterlittlealms