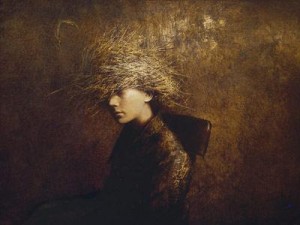 Shadow and Dust are Joshua Alan and Laura Olivier – You can listen and buy their delicate and wonderful music on their website. 
Joshua Alan, singer songwriter, answer kindly to our questions …
Who is Shadow & Dust ?  I'm 31 years old, I play guitar, drums, bass, harmonica, keyboards and piano. Laura is my wife, co-producer and adds some electronic sounds to songs…sometimes a little background vocals ; she plays piano, keyboards. We live about 30 minutes outside downtown Los Angeles in a urban area: Fullerton.
How did you start playing/singing ?  I began to play piano and quietly sing around 6 or 7 years old after my mother bought my uncle's piano… Starting recording my own songs around 12 years old with a analog tape recorder in my bedroom with a Casio keyboard and microphone. 
Where comes from your inspiration ? Your music looks close to nature …  Inspiration comes mostly from my family I have three young children that are amazing musicians you will here about them in a couple of years. We camp a lot as a family in a little mobile trailer …we frequent beach camping and mountain ranges here in the States..Inspiration does come from reflecting on these trips. I would say that my music is a reflection of my internal thoughts on nature, hope, family, love, God, peace, death and personal relationships etc…. I think a lot about our existance and when I sing these spiritual stories just develop from nowhere. In the end my music is the echo of my soul …sounds of a father…. his childrens tears and laughter …and my lovers friendship. 
Where can we find your music ?  For now we plan to only release songs though MP3 downloads on our SNOCAP store as with previous cds we make a couple of hundred cds and when they sell out we don't make anymore… 
Tracks on rotation on KOKOMO (webradio): 
Searching for answers
Quiet hill asleep
Washed away 
The inside out 
Occupied at the moment
End up beautiful
Shout to be heard
Weighted letter
Hidden Creek
A comfortable resting place
Cold House