Roma di Luna is a Folk/Country band from Minneapolis, lead by Alexei & Channy Moon Casselle.
Their wonderful last album "Casting the Bones" is of course on rotation on KOKOMO WebRadio.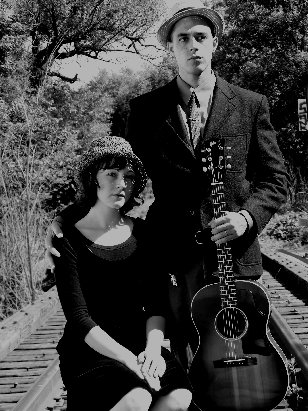 http://www.romadiluna.com/
http://www.myspace.com/romadiluna
How could you discribe your music to somebody who never heard the music of Roma di Luna ?
A: I would say its like the Carter Family meets Cat Power. Appalachian style folk with a modern twist.
What your songs are talking about generally ? Where do you find your inspiration ? nature, travel, love stories, books … ?
C: Songwriting for me is rambles of my own memories or unsettled stories of my past mixed with the stories I see in the streets and newspapers around me and the books and poems I've read that stay with me. I also credit Alexei with inspiring me to write; The creative energy that lives in our relationship when new songs are being written and sung helps us feed off of each other.
What do each of you two bring to Roma di Luna ?
C: We each bring our different instruments of choice, the music we listened to as children, our different writing styles and voices and even the masculine versus the feminine perspective.
What's your story with music ? How, when did you begin singing, playing music are you both from a musician familly ?
A: My father is a painter, a singer, a songwriter, a producer and plays multiple instruments but he was not around for a lot of my childhood. My mother is not a musician but is an artist in her own right. I started writing lyrics when I was fifteen because I wanted to be a rap artist. I stuck with that and continue to write and perform hip hop music today. I wasn't interested in rock or folk music until about five years ago when I listened to Highway 61 Revisited by Bob Dylan. Dylan opened up another world of possibilty and became a gateway to many other artists and perspectives for me. Channy's father used to be a songwriter and is still a hell of a ragtime piano player.
Choose one of these two songs and tells us it's story : « silver dagger » or « these tears ain't mine »
A: "Silver Dagger" is a traditional folk song that I first heard from an old Joan Baez record. I took to it instantly as it has all the lore and tragedy of old Irish and English ballads. It's a story told by a young woman who is being courted by some guy, but she's telling him not to pursue her because her mom keeps a silver dagger under her pillow for just the right ocassion. She also talks about how her father was also a bit of a Casanova in his day, and maybe that's also why mom keeps the knife. I love these old tales because they are very simple and archaic but I think you can read into them and find all sorts of symbols and metaphors. I think they're also very telling of age old truths like men being unfaithful to their partners and over-protectiver parents…
Is there a song you wish you had written ?
A: Yes, there are way too many songs I wish I had written.
What do you listen to ?
C: Alexei and I both listen to a wide range of genres and generations of music. Some of our favorites are Elmore James, Robert Johnson and other blues greats of that generation; the Carter Family and Bob Dylan are staples in our home; Gil Scott-Heron and modern groups like the Roots are musicians that inspre us by the truth they speak and their fearlessness to attack America's racism and other injustices.
Who are Channy Moon's prefered femal singers ?
There are so many… In general, I gravitate towards the tragic and emotive voices like: Billie Holiday, Texas Gladden, Amel Larieux, Esme Redsepova and other Roma singers out of the Balkans. I like a voice tha brings me to tears.
Since 2 or 3 years there is a revival of American folk music in Europe, is it the same in the U.S ?
A:Yes, there has definitely been a folk/old-timey revival of sorts going on locally and also on a national level, I believe. I think part of it is just some people following a trend since everything goes in cycles, so if enough people get into a style or genre that hasn't been getting much attention then others will follow, but at the heart of this resurgance is the music itself and love and respect for the people that created it.
For all of us who live far from Minnesota, can you tell us more about Minneapolis ?
A: Minneapolis is a wonderful city. It is very eclectic in its population as well as in its culture and arts. Most people just talk about the winters if they are not used to harsh weather, but we have the joy of every season here. I think Fall is my favorite because there are so many trees that when all the leaves turn colors it is the most spectaclur sight. We have one of the best music scenes in the country; A lot of amazing bands and talented artists that network and collaborate on a grassroots level. There's great food. I like that it is a major metropolitan city but there are still many small city characteristics about it. I can ride a bike for ten minutes from my mom's house and be in the woods in one direction, or be in down town the other direction. I was born and raised here and I can see spending most of my life here, although I love to travel and hope to see a lot more of the world in the coming years.
USA is currently living a very interesting period with the next presidential election. What do you think about that ? do you have expectations ?
A: I think it is a very exciting time in our history as the first black man was just nominated to be the Democratic presidential nominee. I am a big fan of Barack Obama. Channy is, too. I think the Repulican ticket is a joke, but unfortunately many people would disagree with me and seem to have forgotten or worse, some how enjoyed the last eight years of George W. Bush and company in the White House. I though that it would be almost unanimous that people would rally behind Obama on the left but there is till a lot of division. The Republican National Convention is taking place in Saint Paul as I write this (the other half of the Twin Cities) and a lot of people on the Left are grouping Obama in with 'just another politician who talks big but won't follow through.' This is disheartening to me because people either aren't going to vote or they will vote for a third party which is how Bush won the last two elections. I don't pretend to understand my country and am continuously confounded and frustrated by it but I do love it so I cannot just hold my tongue or leave it to the dogs.

C: I could talk about American politics until I was blue in the face. It infuriates me that Americans might vote Republican after these last 8 years!